Across markets, smart phones are being used for more than phone calls, texts and email. It is easy to focus on brand new functions, but the biggest impact may be in the way people interact with long-standing services. Handsets are changing banking, retailing, marketing, health care, public service delivery and virtually every other aspect of modern life-including campus card programs.
Source Link on CR80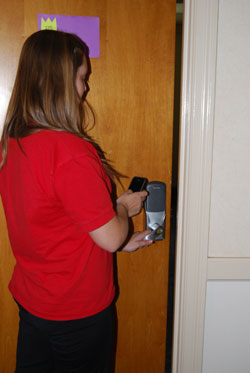 Vendors rolling out initial apps for mobile devices
Across markets, smart phones are being used for more than phone calls, texts and email. It is easy to focus on brand new functions, but the biggest impact may be in the way people interact with long-standing services. Handsets are changing banking, retailing, marketing, health care, public service delivery and virtually every other aspect of modern life-including campus card programs.
In May Google announced two new products, Google Wallet and Google Offers. They enable handset-based mobile marketing and payment functionality via near field communication. During the event announcing the product, Google reps highlighted student IDs as an ideal application for their Wallet platform.
---
Google Wallet will impact banking and retailing long before it hits campuses, but this mention may be a sign of things to come. The lack of NFC-enabled handsets in the U.S. will limit the use at colleges and universities but campus card providers are already gearing up for the eventual use of the mobile as an ID with different applications. Mobile marketing has also been a hot topic among campus card providers but most are still trying to figure out how to properly implement it.
Digital natives
Students entering college in 2011 are "digital natives," all their lives they have been around technology, the Internet and mobile devices, says Kirsten Butzow, vice president of product management and marketing at Blackboard. "It's not too big of a leap to consider the smart phone the credential of the future," she says.
Blackboard plans to rollout its first mobile application later this year. It will enable students to use their mobile device to make deposits, report a lost or stolen card, search for transactions, change a PIN and other customer service functions, Butzow says.
Eventually the technology will move to contactless and NFC, Butzow says. Blackboard has already migrated a number of its campus card clients to Sony's contactless FeliCa technology. The company will soon add support for NXP's Mifare and DESFire technology through its 4000 series card readers scheduled for release in 2012. "The investment clients have made in Blackboard hardware will still be there and they can move to different credentials," she adds.
As more NFC-enabled handsets hit the market, Blackboard sees the mobile being used with the card. "We expect to use an NFC-compliant device in the future as a credential to access goods and services," Butzow explains, "but we don't expect the card to be displaced."
Heartland Campus solutions is also investing in mobile applications, says Fred Emery, vice president and general manager at the company. "We are reaching out to students and add functionality for those who are using their phones," he says.
The company has a mobile app that enables students to manage their card accounts, Emery says. Students can add funds, check balances and even show a map of where the card can be used. "If they want to see where they can get a soda or find a vending machine that's attached to the one card system the app will help them," he adds.
Another mobile application Heartland offers is Campus Assist, designed for two-way communication between the student and campus, Emery says.
Heartland is also working with Residential Management Systems Inc. and oMbiel to offer other mobile apps to students. The company's campusM is a mobile application that combines university services in a smart phone. One quick click gives students access to information about their university, upcoming events, campus maps and directions, library records, contacts, latest news and important alerts to help them get the most out of university life. The apps are available for iOS, Android, Window Mobile and BlackBerry.
A version of the app was made available to attendees at the July annual meeting of the National Association of College and University Business Officers in Tampa, Fla. The service enabled attendees to:
Learn about the conference venue
View program details, session times and update an event planner
Access an interactive floor plan
Receive real-time alerts and announcements from NACUBO
Search the contact directory and even use GPS functionality to link up with colleagues and friends.
Physical access via the mobile
The CBORD Group has an application for students who forget their ID and need to open up their residence hall door, says Read Winkelman, vice president of sales at the company. If a school has online, electronic locks it can set up a system where a student texts a number and the door will open after a certain amount of time.
The student has to register the mobile phone number and the door that is to be opened needs to be checked with the school. The school can also set a time frame for opening the door, require a PIN, as well as figure out if it wants to charge the student for the service. A residence hall can set the system up so each student gets a certain number of free unlocks but then is charged for subsequent uses of the service.
CBORD has other wireless applications as well that can be used to check nutritional information for meals, Winkelman says.
Mobile marketing
With the popularity of smart phone and location-based offers campus card providers have been talking about mobile marketing. This is part of what Google announced in May, calling it Google Offers. Consumers can sign up for deals they are interested in and receive offers via the handset.
For schools this could be a way to let students know about different events or offers on campus and add a new component to off-campus programs. It could be a revenue generator for a school and possibly offset some of the campus card program costs, Emery says. Heartland is looking at location-based marketing but it's not something it has in place yet.
While mobile marketing could bring new service and new revenues, schools are cautious about such programs, says Christopher Haley, vice president of product development at CBORD. "Almost all schools we talk to are protective of their students and they don't want to-or can't-give out information about their students," he explains.
Making sure that only appropriate content s distributed is a concern as well, Haley says. For example, bars shouldn't be sending messages to those who aren't 21-years-old.
There is a fine line between making sure the program provides value to the merchants while not spamming students, Haley explains. Merchants would want as many students as possible to get messages but the schools would want the program to be permission based so students only get offers for which they are eligible or pre-enrolled.
CBORD's program would be permission-based so students could sign up for offers they are interested in, Haley says. "The programs would be targeted and provide value to the student and significant value to the merchant," he adds.
The impact of mobile technology on campus is a hot topic, and with the emergence of more apps for smart phones and their popularity on campus we are at the very beginning of its use on campus and within campus card programs. While it doesn't appear that the plastic card will be going anywhere anytime soon, the smart phone will almost certainly play an increasingly important role in campus life.
---
Mobile devices change education landscape
Using the mobile as an identity credential may enable universities to roll out new applications to students quicker than ever before.
Traditionally, if a school wanted to enable more applications for the campus card it had to make the changes on the backend or reissue cards. But with mobile applications, updates can be made over the air to enable greater functionality.
Blackboard is already enabling schools deploying Sony's FeliCa technology to add university-specific application to credentials, says Jun Shionozaki, technical consulting manager, FeliCa Business Division at Sony. Blackboard says that some 60 schools have deployed FeliCa readers and 20 have deployed the cards.
When Blackboard deploys the FeliCa contactless smart cards, the credentials have two areas, one that is a secure area where payment and physical access control transactions take place, and an open area where the school can add its own applications.
Blackboard and Sony distribute a FeliCa software developer's kit that includes some sample applications and a tutorial on how to create them. "In the past they could only use the mag-strip credential but now they can go out and be creative," Shionozaki says.
Some applications schools can create include computer login, ticketing and event tracking, Shionozaki says.
When the credential moves to the smart phone adding these applications will be even easier. "Mobile means delivering services more rapidly," says David Marr, president and COO at Blackboard Transact.
Mobile application are becoming the "virtual front door" for schools and need to be governed by credentials that are stored on that device, Marr says. Blackboard is preparing for how mobile will change the way schools interact with students. "Students live on the move and live in a world that's pretty fluid and they expect to receive their services in the same way," he adds.
Schools that build native mobile applications can deliver immediate services to students, Marr says. Also, instead of building the infrastructure, schools can make it easier by contracting with providers to build the applications. "You rapidly reduce cycle time and build rich and meaningful services to constituents," he adds.
Campus card administrators need to find out who on their campus is working on mobile efforts and make sure they are a part of the conversation, Marr urges. "Let it be known that campus card solution providers are moving the credential to the phone and this will get their attention," he adds.