The release of ArmorActive's new line of acrylic iPad kiosks follows shortly after well received custom iPad kiosk design project with Foot Locker. The new acrylic line offers a variety of options including credit card swipe, custom colors and branding features.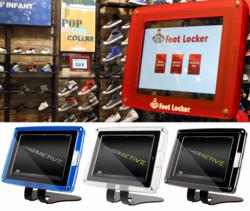 Sandy, UT (PRWEB) May 21, 2012
In addition to securing the iPad, ArmorActive's new acrylic product line focuses on the visibility of the iPad device within the enclosure. ArmorActive's interest in creating these new products originated after a project with Foot Locker, who requested to have custom acrylic iPad kiosks designed for their New Haven Mall, Lake Grove, NY store. Prior to this project, Foot Locker had deployed aluminum enclosures, which resulted in many issues including customers breaking into the enclosures and tampering with the iPads. Therefore, they had a specific design in mind when they contacted the ArmorActive design team - a durable, tamper proof, acrylic red enclosure with a matte finish and logo branding on each face plate. Out of this request birthed the "Strata" enclosure, a name coined from its layered construction.
Within only three weeks after the Foot Locker request, ArmorActive had designed, manufactured, and shipped the Strata enclosures per Foot Locker's specifications. With the Strata iPad kiosks mounted to existing retail shoe wall racks, customers can now browse the key features of each shoe, as well as search for products that may only be available at other locations. With the success of the Strata, Foot Locker's goal is to eventually deploy 4-5 iPad kiosks to each of their 3,000 stores nationwide.
Since their initial iPad kiosk project with Foot Locker, ArmorActive has expanded the Strata product line with theSpectrum, Swipe +Square, and Swipe +iDynamo. The top acrylic layer of all the Strata enclosures is abrasion resistant to protect the durability and clarity of the surface layer, which will withstand continual interactive use of the iPad. The Strata line also features tamper proof screws, selectable iPad access points and venting on the back plate for heat dissipation of the New iPad 3.
Similar in design to Foot Locker's enclosure, the Spectrum allows customers to choose from a wide range of acrylic colors or textured inserts to customize their enclosure. For example, a wood or stainless steel insert can be used to match a specific décor. With their Strata Swipe +Square enclosure, ArmorActive offers the first ever iPad enclosure to secure the Square credit card reader from loosening or theft. In response to many customer complaints regarding loss of connectivity with the Square reader due to pivoting in the headphone jack, the Strata Square iPad case holds the credit card reader in a fixed position, while also providing a slide plate support for an easier credit card swipe. The Strata Swipe +iDynamo provides the first acrylic iPad POS enclosure designed specifically for the MagTek iDynamo magnetic stripe card reader.
ArmorActive's Strata iPad enclosure line is available for purchase on iPadEnclosures.com, which also now sells the new"Exposed" acrylic iPad table mount, among many other iPad kiosk solutions. The Exposed iPad kiosk provides customers with the ability to use the iPad as a kiosk display, just like Apple retail stores, in a low-profile wedge-shaped enclosure. Since the iPad's home button is exposed with this particular enclosure, ArmorActive offers software that will disable the home button without needing to jailbreak the device.
For more information on their new Strata acrylic iPad enclosure line and Exposed iPad table mount, the ability to disable the home button, and many other iPad kiosk hardware and software solutions, visit http://www.ipadenclosures.com.
About iPadEnclosures.com
iPadEnclosures.com offers the largest selection of iPad kiosk products on the market. Unique in the industry, iPad Enclosures provides a team of Solutions Architects to help customers make the best decisions, from procurement to implementation phases of their iPad kiosk projects.
About ArmorActive
Located in Utah's "Silicon Slopes", the fastest growing technology seat in the country, ArmorActive, Inc. is an enterprise-level tablet solutions company that manufactures hardware, builds software, and designs mobile apps to meet customer's needs worldwide. As a parent company to iPadEnclosures.com and Pro-Tablet.com, ArmorActive seeks to meet the unique needs of each business, as the world transitions to using tablets as the technology standard.