Crews installed a Hubway bike-sharing kiosk across from the Campus Center on the UMass Boston campus on Friday, Sept. 7. The 19-dock solar-powered station is part of
an expansion of the popular Hubway system
:
Hubway kiosks installed at UMass campus, JFK-UMass station
By
Reporter Staff
Sep. 10, 2012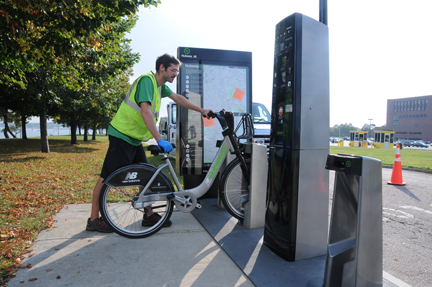 Crews installed a Hubway bike-sharing kiosk across from the Campus Center on the UMass Boston campus on Friday, Sept. 7. The 19-dock solar-powered station is part of an expansion of the popular Hubway system: Another kiosk was also installed last week at JFK-UMass station.
"We are very excited to bring the Hubway program to campus," said Diane D'Arrigo, assistant vice chancellor for campus services at UMass Boston. "As part of our transportation demand management efforts on campus, we are always looking at new ways to offer more convenient, alternative commuting options to the UMass Boston community and our neighbors."
Photo by Harry Brett